Loop
Sign

- Digital signage made easy, functional and affordable

LoopSign is an easy-to-use, cloud based solution for your digital signage needs. Whether you have one or more screens for signage use, LoopSign is the only solution you need for creating, editing and administrating all of your digital signs, with an intuitive and convenient user interface. Easy, functional and affordable.
What it is
LoopSign is 100 % cloud based, meaning everything you need to create and administrate your screens' content is available from your web browser whenever and wherever suits you. With LoopSign, no software installations are necessary and changes are implemented in real-time. There is no need for an external player. Signage creation and administration is based on a simle principle: What you see is what you get. This means you always stay in control, safely knowing exactly how your content will actually look on your screens – because it's right in front of you while making it.
New:
Push content to your mobile workers by utilizing the LoopSign app.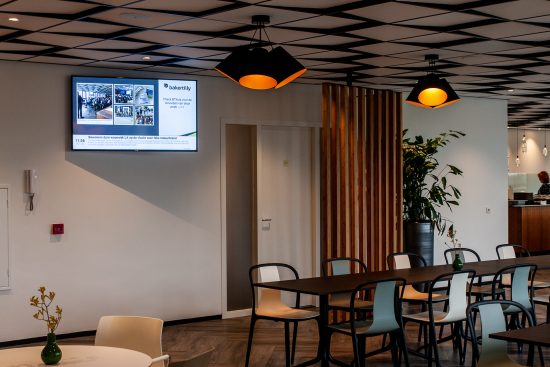 Widgets
With LoopSign it's easy to tailor your screens by adding different types of content depending on your needs. Widgets include:
Time and date with custom time zones
YouTube and MP4-videos
Custom text
Custom text on pictures
Picture and text (Article)
Picture gallery (png, jpg, svg and gifs)

Show single pictures or folders from the mediabank
Play content directly from a Google Drive folder.

PDFs
MSOffice Documents (Word, Excel, Powerpoint)
HTML code
Wayfinding/digital signs (Requires additional license)
Tables
Countdown
Keep your signage screens up to date by integrating with external data sources. These includes several different widgets so your signage screens are updated in real-time.
Weather forecasts
Calendar view integration with O365/Exchange online, Google, Ical,
Event Temple and Visbook
Social media (Facebook, X (Twitter) and Instagram)
RSS feeds
Websites
Energinet report integration (More Info)
Entur (real time public transport Norway)
Rejseplanen (real time public transport Denmark)
Airthings air quality sensors (Requires Airthings business)
Inforegi (Requires subscription)
Room (O365 and Google)
Avinor (real time flight departure/arrival data)
Triggered content API (For example fire alarm etc)
For more information, have a look at our in dept widget guide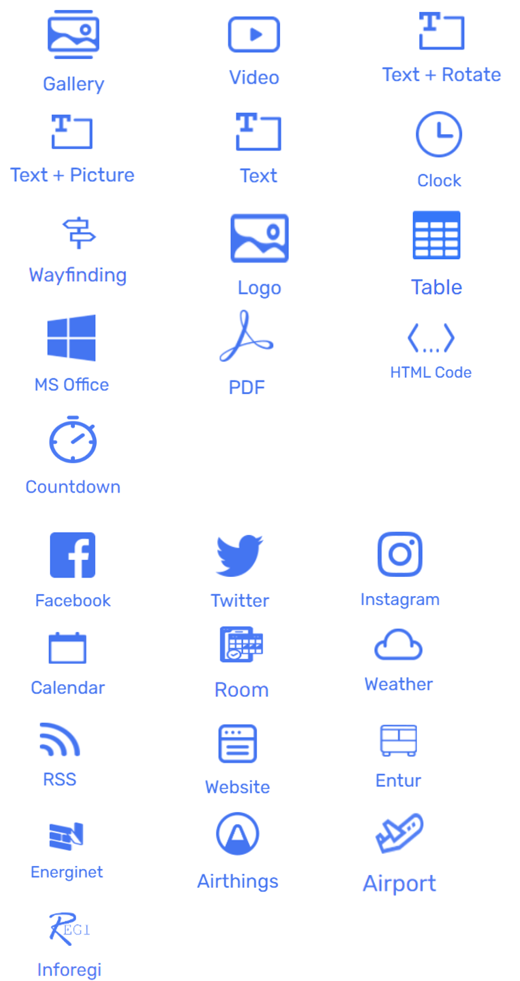 Getting started with LoopSign
It's quick and easy to get started with LoopSign.
Sign up for a 30 day free trial by clicking the button below.
Start creating your digital signs using the browser based interface.
Add the virtual screen's unique URL in the browser of your signage screen
Enjoy!
LoopSign provides you with all the necessary functionalities needed to manage your digital signage screens, in an easy-to-use, low-cost package. Available everywhere, right in your browser.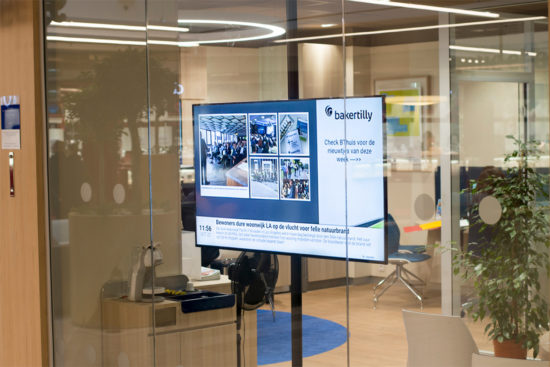 Want to try out LoopSign for free?
How to get started
Sign up
Register an account and get a 30 day free trial
Start creating
Use the browser-based, easy-to-use interface to create virtual screens that fits your needs.
Display
To showcase your virtual screen, add its' unique URL to the built-in or external web browser connected to your signage display.