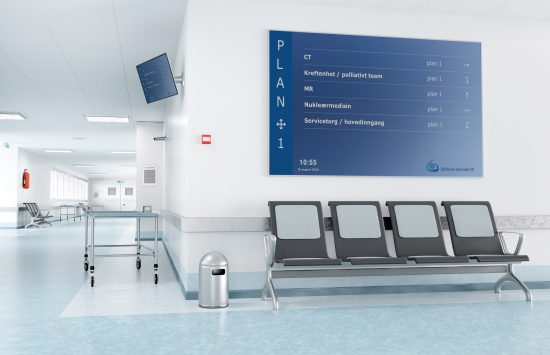 Improved patient and visitor experience with LoopSign
At the Norwegian health trust and hospitals, Sykehuset Innlandet, LoopSign makes life easier for patients and visitors by guiding them to the right department.
Sykehuset Innlandet (SI) is a dynamic environment for employees, patients, and visitors. They saw a need for an efficient, fast, and easy way to make sure their patients and visitors easily could navigate the halls and corridors of the hospitals. To solve this need, SI chose LoopSign, a 100 % cloud-based solution for creating and administrating digital signage displays.
Instant changes with LoopSign
Quality consultant in estate and development at Sykehuset Innlandet, Thorbjørn Viberg, explains the need for signage that can be changed and updated quickly.
– Signage is key for all our user groups to find their way in our facilities. Because departments often switch places, we needed signage that could be easily updated. Physical signs were both time consuming and overall more work. Instead, we went for a digital solution that was intuitive, easy to use, and quick setup, Viberg explains.
Easy handling and administrating
The department of communication at Sykehuset Innlandet is responsible for designing the digital signs, which is easily done from a web browser on a computer, phone, or tablet. LoopSign's many widgets such as text and pictures, combined with custom fonts and colors, allow the signs to match SI's visual profile.
– The technical department is responsible for the signage itself and setting it up on the screens, while the department of service makes minor content changes. It's handy that several departments and users can access the system. It greatly reduces the downtime of our signs, says Viberg.
Improved communication
Digital signage can greatly improve the flow of information from management to staff and customers. Or in SI's case; patients and visitors. During the Covid-19 pandemic, the hospitals were in a situation where departments and facilities changed and relocated faster than usual. As a result, the need to communicate these changes arose just as fast.
– We'd been looking for a digital signage solution for a while, but this past spring we really felt the need. As time was of the essence, we really valued how quick and simple it was to get started with LoopSign. We also received support and help when needed and felt prioritized as a customer. The few bumps we had along the setup process was easily solved satisfyingly, Viberg explains.
– We're looking at connecting even more screens to the LoopSign solution. We see the potential in several of the functions the solution offers that could greatly improve communication between the hospitals and the patients, visitors, and our staff.
– I highly recommend LoopSign to other companies that wish to improve their communication between management, staff, and customers, Viberg says.
Read more about LoopSign or sign up for a 30 days free trial.