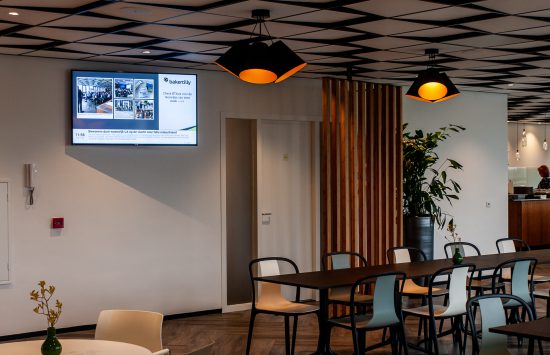 Five reasons why your company should use LoopSign
If you can design and operate your signage displays in an easy, fast, and affordable way, why shouldn't you?
We get it, digital signage can be a hassle. Without the right tools, creating and keeping your signs up to date can be time-consuming, expensive, and often isn't prioritized. But it doesn't have to be like that. We're here to show you exactly why your company can benefit from using LoopSign as your designated solution for all your digital signage displays.
1. Get started in seconds
Literally! With our 30 days free trial, no obligations or credit card needed, it couldn't be easier or faster to get started with LoopSign. In a matter of minutes, you can have your new digital signs up and running. Here's how:
Step 1: Log in to your account.
Step 2: Design your digital signs right in your browser from your tablet or computer. No need to install any new software.
Step 3: Showcase your virtual screen by adding its unique URL to the display's browser.
It's that easy! Eliminate time spent on figuring out complicated solutions and how they work.
2. It doesn't take a genius
Speaking of time; you probably have better things to do than to fickle with digital signage all day, right? LoopSign has one of the easiest and most understandable user interfaces on the market. Don't waste your or other employees' time unnecessarily trying to familiarize yourself with complicated solutions, when there's an affordable and functional solution only a few clicks away. And with an easy-to-understand user interface, everyone can use LoopSign – you don't have to be a genius!
3. Signs that update when you want them to
What if you could administrate and design your digital signs in advance? Say you want to start Mondays off by designing all signs for the coming week. With LoopSign's new and handy timeline feature, you have the option to automatically change your screens' content after a certain amount of time. Want something only displayed on Fridays? For an hour? Only during the mornings? No problem. The timeline tool allows for your screens to update automatically, for a smoother stream of information.
4. Match your company's visual profile
With the number of different widgets available in LoopSign, your digital signs can be customized to your wishes. Display different types of information such as the time, weather, videos from YouTube or stored local, pictures, and much more. Read more about the LoopSign widgets here. Custom fonts, colors, and the option to import your company's logo allows for your digital signs to match and complement your company's visual profile.
5. Get a 30 days free trial period
We get that you don't want to commit to a solution before trying it out thoroughly. That's why we offer all new customers a 30 days free trial. In a matter of seconds, you can get started trying out LoopSign for your company. Support from the Loop24 team is available at your request.